Lucian Freud and Duane Keiser
Today was the day of Lucian Freud because of
this great article at The Times by
John Cornwell, only the German Critic Hanno Rauterberg is able to write at this level here in Germany I think.
The newest painting of Freud tells about his relationship towards art and admirers, but somehow it really reminds me on a big kitsch painting, lets say like a Carl Spitzweg. I always found Frank Auerbach much more thrilling, but must confess, that I never saw Freuds originals.
Anyway, reading about great artists in the morning made me clear again, how bad is it going with my own painting. I can not make a good painting anymore, also because of this feeling for the last 10-12 years I can not trust the daily painting of Duane Keiser. I really mistrust that kind of trompe d'oil. Whats the sense behind, exept that 100 USD a day ? He better asked a 10.000 USD an then we will see, or should go to a Iraq for a while and make the paintings of dying soldiers and civilians there. My favorites are the Lemon slices, in that way I think he really invented a new theme into art and the Lure Number 4, I could get really jeaulous on the buyer of that piece. Thank you, Duane and my best congratulations to the buyers.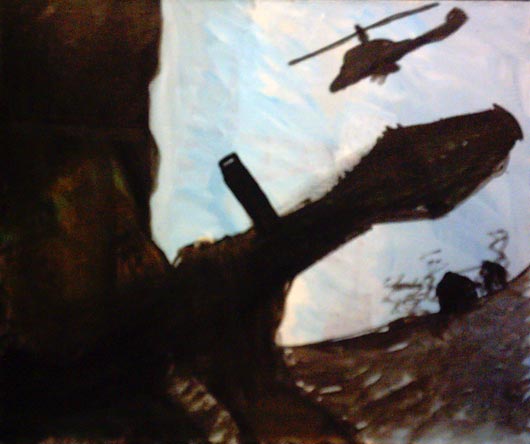 Nasty Sniper, 2005

Labels: Neue Kunst